What Emergency Relief Options Should I Consider During The Coronavirus Pandemic?

Are you curious about financial relief you may qualify for as an individual due to Coronavirus?
This checklist covers the new emergency relief options for you to consider to help you navigate your options.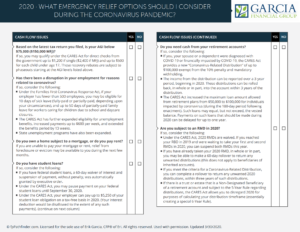 This checklist includes emergency relief options outlined in:
The CARES Act
Families First Coronavirus Response Act
Executive orders
IRS changes
And other relief options specific to COVID-19 as they pertain to individuals
We will update this checklist periodically as new emergency relief options are introduced.