Guest Host: Crisis Fretting vs Crisis Planning; Rational Overconfidence; Servant Leadership

COVID19 Special Edition Podcast Series, Helping insurance leaders lead their people.
I am honored to have been selected to offer insight on leading through crisis on the Agency Intelligence Podcast.  It's a good listen and always  good time speaking with Jason Cass.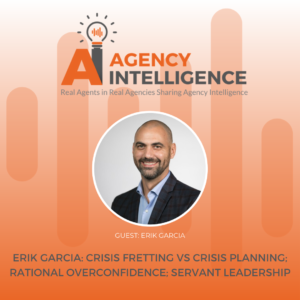 Episode Three of the COVID19 Special Edition Podcast Series, Helping Insurance Leaders Lead their People, I sat down with Erik Garcia this past Saturday afternoon to give you the leadership knowledge that flows from this man's brain. Erik and I have done many podcasts together (he even has his own) but this ranks high up there. IMO, as one of the best yet and there is no better time to deliver it. Once you listen to this, your fears of the unknown will subside and the leader that is in you, the one you have been building for years for this moment, will start to rise. #rationaloverconfidence
Resources mentioned: