Inflation, Recession, Mid-term Elections and the Market with Kevin Caron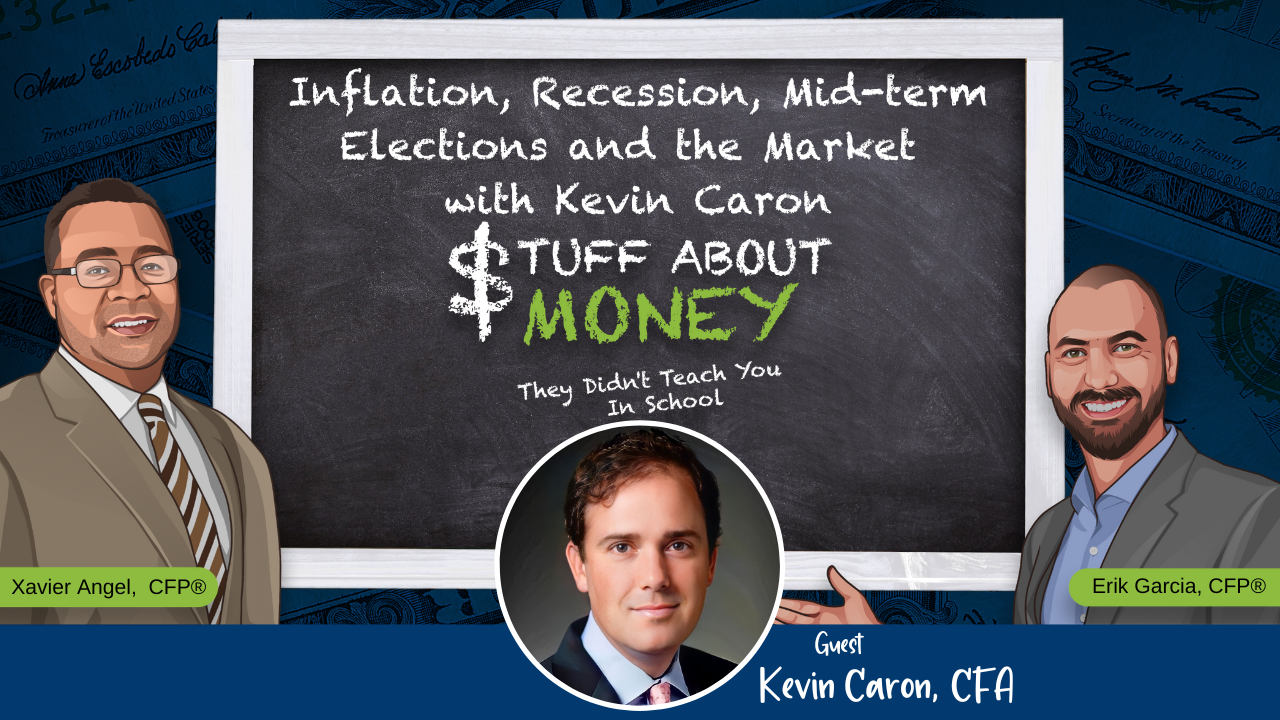 If you have money invested in the stock market, there's a good chance the recession is on your mind. Will high inflation lead us to a recession? What about the mid-term elections? And when will the stock market be normal again?
In this episode, Xavier Angel, CFP®, ChFC, CLTC, and Erik Garcia, CFP®, BFA, are joined by Kevin Caron, CFA, Senior Portfolio Manager and co-founder of Washington Crossing Advisors, in search of answers to the questions many investors are asking.
Episode Highlights:
Kevin shares about his background in finance and what he has learned about the market over the years.

(2:41)

Kevin explains that if he could go back in time and tell his younger self something, he would tell him to worry less.

(6:30)

Kevin mentions that the state of the world has always moved from crisis to crisis and crises are the things that push us forward.

(9:16)

Kevin explains that having stocks and bonds makes your capital work for you on top of what you're doing with your job and creating income.

(16:35)

Kevin explains that what happens with inflation is the value of the money that you own is diluted.

(19:15)

Kevin explains what contributed to the current perfect storm for inflation.

(24:25)

Kevin shares how we collectively create money.

(26:28)

Kevin mentions that what happened this year was not a result of a disconnect between the economy and the market but a disconnect between what the market expected and what happened.

(28:56)

Kevin explains that having a long-term perspective is important and acceptance is key to battling short-termism in the market.

(31:52)

Kevin discusses the worst case scenario for the stock market.

(37:15)

Kevin shares why it is important to put investment decisions down on paper and revisit them periodically.

(42:07)
Key Quotes:
"I think the state of the world is now, always has been, probably always will be, the state of moving from crisis to crisis. And those crises are the things that push us forward. If everything was just comfortable all the time, and everything fit just right, there would be no reason for change." – Kevin Caron

"The way that we look at inflation is that it changes the value of your money for the worse…but what's really happening is the value of the money that you own is being diluted." – Kevin Caron

"I think it's always helpful to make investment decisions to put it down on paper. Making decisions in your head, driving to and from work or, you know, in the shower in the morning, while you're trying to figure things out, it's not the best way to do it." – Kevin Caron
Resources Mentioned: