Financial Decisions You'll Have To Make for Your Wedding with Jessica Burke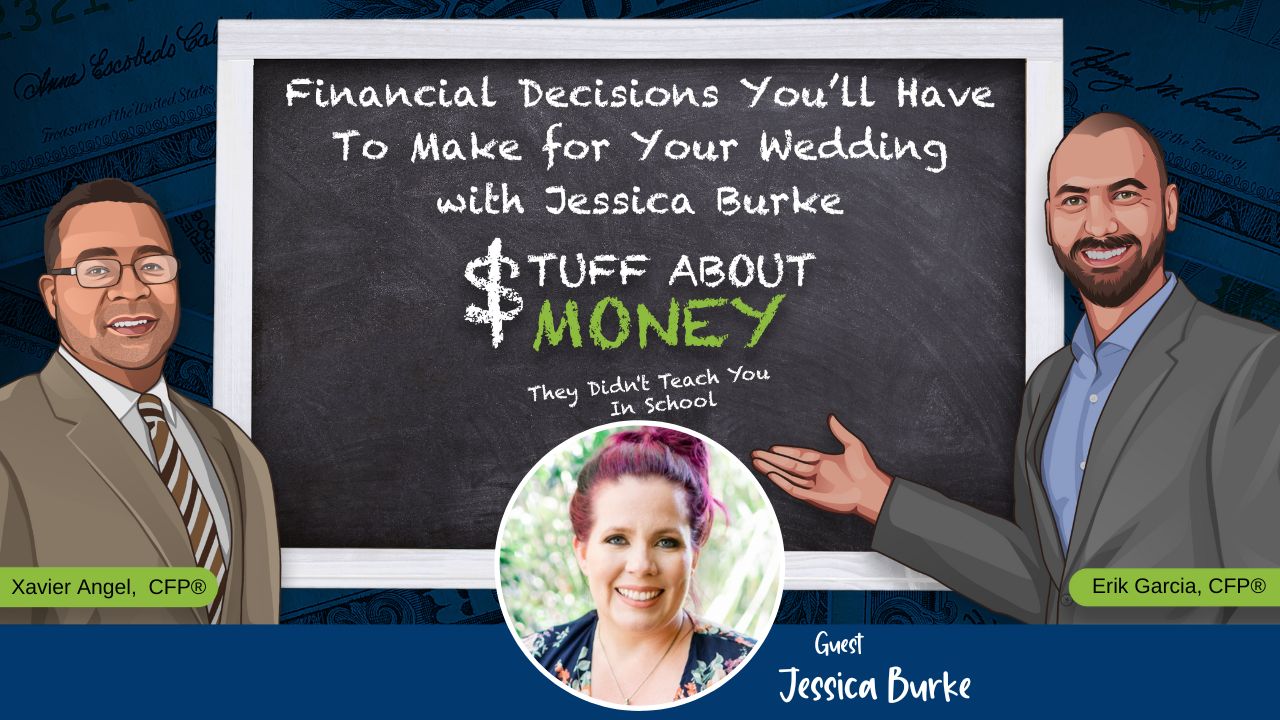 What comes to mind when you think about weddings? The happy couple? Wedding cake? A bumping reception? Wedding cake? Maybe the kiss? Or, perhaps, the wedding cake?
What about the finances?
In this episode of the Stuff About Money podcast, Jessica Burke of NOW Weddings Magazine joins Erik Garcia, CFP®, BFA, and Xavier Angel, CFP®, ChFC, CLTC, to talk about getting married and how it's going to hit your pocketbook. Jessica and Xavier discuss what factors go into making a wedding expensive while Erik contemplates sneaking into a reception.
Episode Highlights:
Jessica shares her background in the wedding industry as the Owner and Publisher of New Orleans Wedding Magazine and how the publication has evolved over the years. (2:48)
Jessica underscores the importance of understanding accounting beyond the basic level if you are a business owner. (6:05)
Jessica recommends considering various factors when planning a wedding and including who will be contributing to the finances and guaranteeing their dependability. (8:24)
Jessica explains that the guest count is one of the most significant factors that will impact your wedding budget. (10:58)
Jessica discusses the advantages of hiring a wedding coordinator and how they can make your wedding run more smoothly. (13:14)
Jessica shares how COVID changed the way couples determine their wedding size and guest list. (18:14)
Jessica estimates that the cost of a typical wedding is approximately $27,000, depending on the location and size. (20:35)
Jessica shares that she will be speaking at an event in New Orleans in January. (27:38)
Key Quotes:
"I am all in favor of hiring a coordinator. I think it's a great investment for your wedding especially if you have never planned a wedding or are not familiar with the event space. They can help you not make mistakes and spend money that you don't need to spend, or help you make better decisions." – Jessica Burke
"I think COVID allowed people to trim their guestlist without having to hurt people's feelings." – Jessica Burke
"So, my biggest thing with anyone is, you don't have to do something for a wedding just because it's a tradition or because it's what your friends did, or your family did. The most important thing like we said earlier is about the couple getting married, pledging their love, and starting their lives together. And really the event itself, it can be very simple but very meaningful." – Jessica Burke
Resources Mentioned: