College Loans and Financial Aid with John Hupalo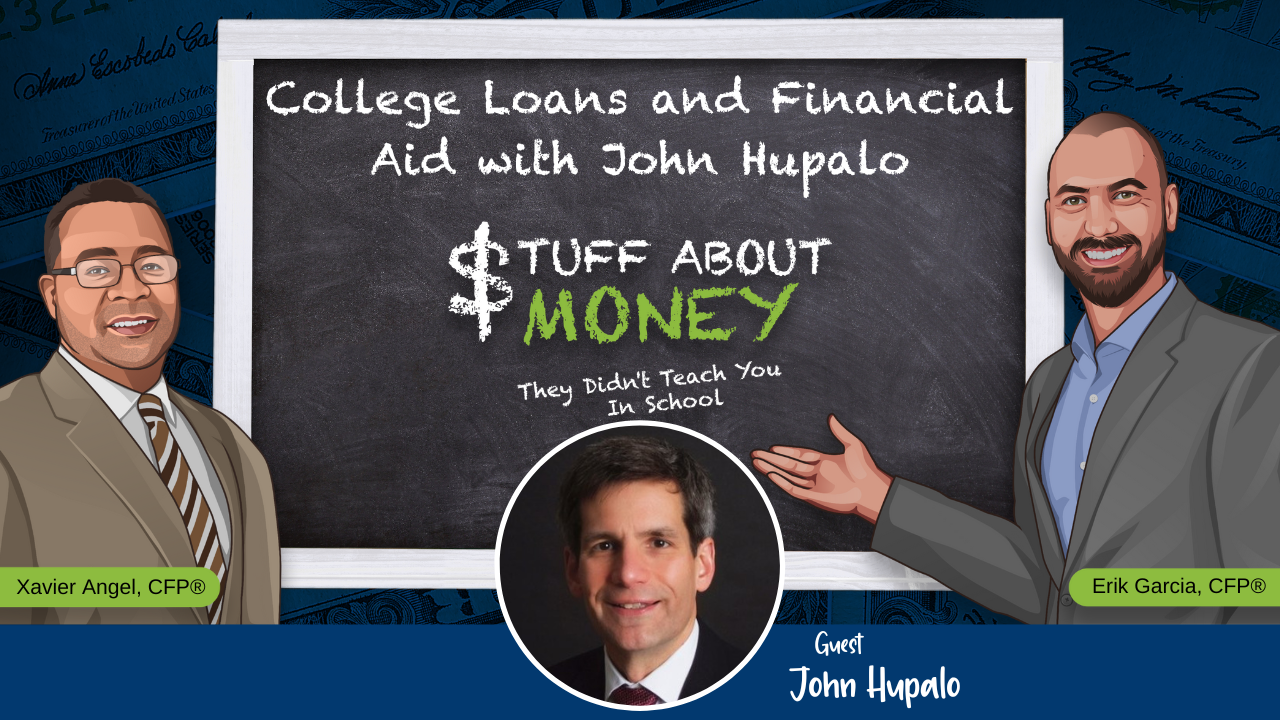 Paying for college is tricky! Filling out the FAFSA, applying for loans, trying for scholarships… and then, debt. The process is anxiety inducing and sometimes ambiguous – but that doesn't mean it has to be!
Erik Garcia, CFP®, BFA, and Xavier Angel, CFP®, ChFC, CLTC, are joined by John Hupalo, CEO and founder of My College Corner, to talk about the intricacies of applying to college, filling out the FAFSA, and how loans can impact your finances.
Episode Highlights:
John discusses the importance of having real conversations about financial matters with younger generations. (4:51)
John believes that real-life lessons about money cannot be effectively taught in school, but rather learned through practical experience. (7:09)
John mentions that there is a rule of thumb that if a student graduates with a debt that is less than or equal to their first-year starting salary, they will be able to pay that off comfortably over time. (9:24)
John explains the two types of financial aid: need-based and merit-based. (11:15)
John advises students to consult with the financial aid office at their school to clarify how third-party scholarships might affect their financial aid award. (15:01)
John explains that the FAFSA form is available for senior-year students to fill out in October, and that a new formula will be used for the student aid index calculation beginning next year. (20:16)
John shares that some undergraduate students may qualify as independent students when filing FAFSA, especially if they are not being claimed as dependents on their parents' tax returns. (22:58)
John explains that the financial aid formula for determining eligibility is primarily income-driven, with some asset protection allowances. (26:11)
John discusses the tax advantages of 529 college savings plans, which now cover a wider range of educational expenses, including student loans, apprenticeships, and private secondary schools. (29:03)
John recommends visiting fsa.gov for federal student aid information and individual college websites for need-based aid details, including the PROFILE form used by some private institutions. (32:34)
John explains the difference between the sticker price and the net price for college tuition, noting that the average tuition discount is 50%. (35:27)
John acknowledges the emotional and operational difficulties faced by both students and schools due to the pandemic. (38:55)
John discusses the crucial role of financial professionals in guiding clients through college financing decisions. (42:05)
Key Quotes:
"Kids who get out of college, they get a job, most of those kids do really well. And they can make a good way for themselves and they can pay back the debt in good time. So it really is about responsible borrowing." – John Hupalo
"The other thing that the government does is that there are two flavors of that direct student loan, one is subsidized on is unsubsidized. So if there's a really low-income family, they could get a subsidized loan, which means the government will pay the interest while they're in school." – John Hupalo
"The beautiful thing about the 529 is that there's a really significant tax benefit. Once you put the money in there you don't pay any tax on that unless you don't use it for college basically." – John Hupalo
Resources Mentioned: