Simple. Money Edition 2: Review Your Statements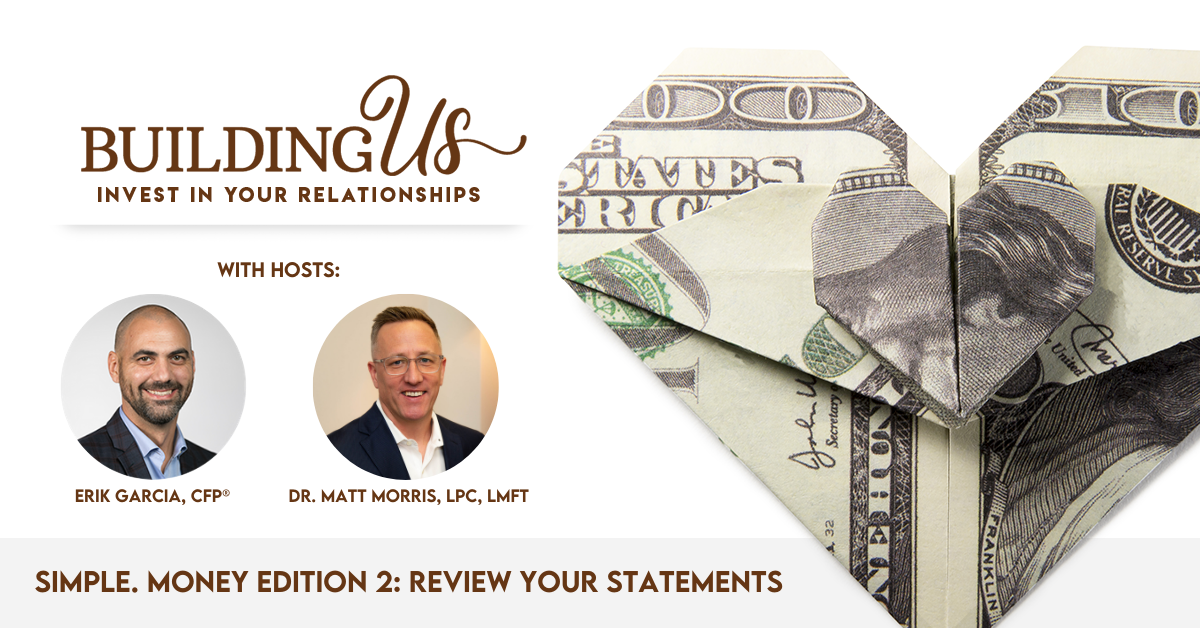 Where is all my money going? I spent how much on what? In this, the second installment of the SIMPLE: Money Edition series, Dr. Matt Morris, LPC, LMFT, and Erik Garcia, CFP® provide you with a simple, practical, and tactical strategy for helping you get a handle on your spending. Start now by improving your finances, improving your home, and investing in your relationships with this simple task.
This is SIMPLE: Money Edition, from Building Us.
Episode Highlights:
Matt mentions why he's excited about this series. (2:39)
Erik mentions today's simple technique. (3:31)
Erik shares why printing the last quarter's worth of statements is beneficial. (4:38)
Erik explains the first part of reviewing your statements. (5:33)
Erik gives us the second part of reviewing your statements. (6:59)
Erik mentions why tracking your expenses is a painful thing for some people. (8:07)
Erik shares how to categorize your expenses. (10:06)
Erik explores some factors about credit cards. (12:53)
Erik gives us the final part of reviewing your statements. (16:06)
Key Quotes:
"It's not necessarily the big expenses that keep you in a position of not being able to advance financially. It's the little things. It's all the little bitty expenses that you buy throughout the month that add up consistently over months and over years." – Erik Garcia, CFP®
"We're creatures of habit… which you start to find is like, your spending becomes very predictable. So you know, we spend money at the same places. We shop at the same places. So, once you start to get kind of a baseline, you start to understand your spending habits, and you can start to make some changes in some improvement." – Erik Garcia, CFP®
"I don't have a problem with separate accounts in general. But if separate is hiding, if separate is privacy… like, I'm married to you, we have a shared vision of a future and I don't want you to know what I spend… that seems problematic." – Dr. Matt Morris, LPC, LMFT
Resources Mentioned: