Should I Consider Refinancing My Mortgage

With the decline in interest rates, mortgage refinances have become a popular topic. And given your mortgage may be your biggest budget expense, you owe it to yourself to consider refinancing.
Some compelling reasons to refinance include:
an increase in your credit score or home value

the availability of more favorable loan terms
Everyone's situation is unique, and many factors must be considered before making the decision to refinance.
Items to consider include:
Interest rate trends

Current loan rates and terms

Available alternatives

Motivations for refinancing

Cautions against refinancing
This flowchart can help guide you through the decision of refinancing your mortgage.  Have you refinanced your mortgage?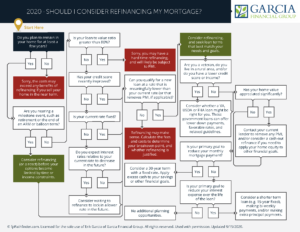 Erik Garcia is a Certified Financial Planner™ that helps his clients not only manage their stock market investments but also advises them on making big financial decisions (like the decision to refinance a mortgage) that are consistent with their long-term plans.  Are you ready to start planning with Erik?