Importance of Collaboration between your CPA and Financial Advisor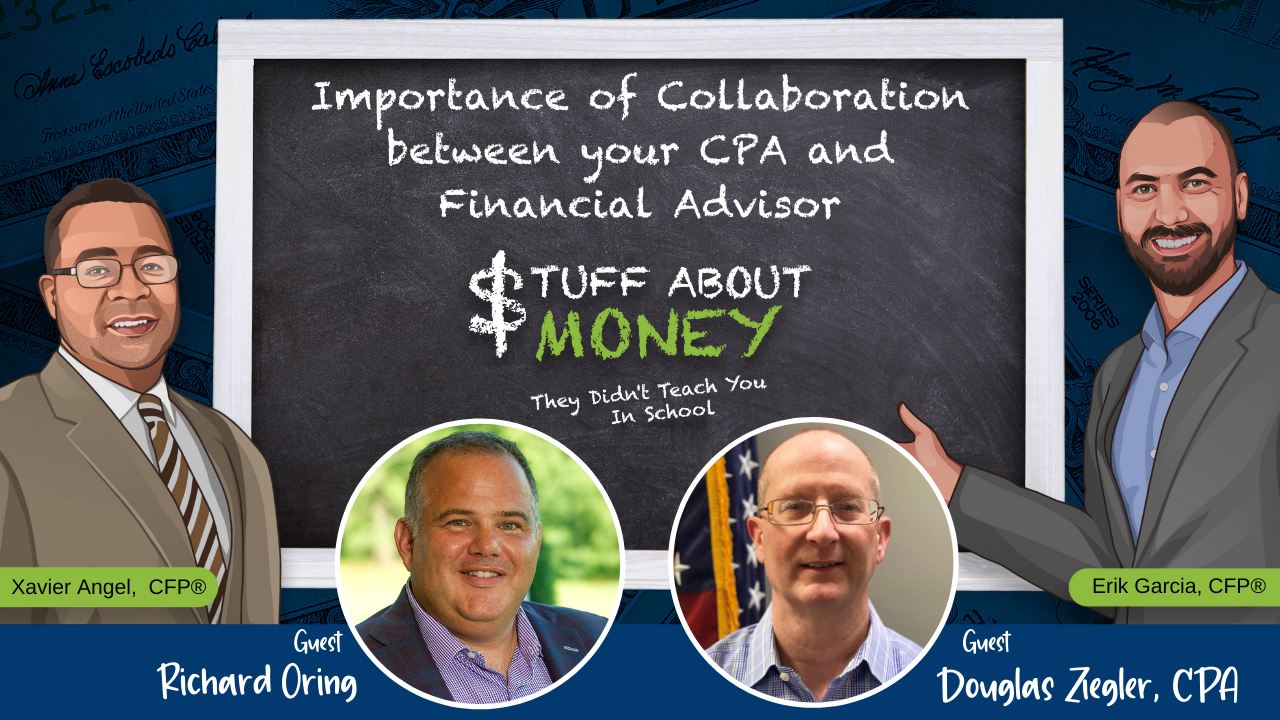 As the tax landscape ever changes, it becomes more important for your CPA and Financial Planner to collaborate.
In this episode of the Stuff About Money podcast, Erik Garcia, CFP® and Xavier Angel, CFP® are joined by fellow financial advisor Richard Oring and CPA Douglas Ziegler, to discuss why you want two of your most important advisors to be in communication.
Are you minimizing capital gain taxes? How many opportunities are you missing on your tax return? You also may be surprised what these two seasoned financial professionals say they wish they would have known about money when they were younger. School is in session.
Episode Highlights:
Richard shares about his background, how he got into accounting, and where he is now. (2:40)
Doug also shares his background, and where he is today in the business. (4:36)
Richard and Doug discuss the one thing they wish they would have known 20 years ago. (5:26)
Doug and Richard share their thoughts on the impact and importance of financial planners and CPAs collaborating. (11:30)
Richard shares how he and Doug work together regularly and how often they communicate. (15:32)
Richard discusses qualified dividends and long-term gains and what commonly happens in the first year of retirement. (21:22)
Doug shares areas that lead to expenses and costs to clients that could be avoided. (24:22)
Richard explains that the tax rates are likely going to go up over time. (30:32)
Doug discusses the importance of communication between financial planners and tax advisors. (36:33)
Doug shares a story about capital gains that provided a learning opportunity for both the client and the investment advisor. (40:38)
Doug and Richard share a few thoughts that people in the financial industry might find useful in their careers. (44:42)
Key Quotes:
"It's never a bad decision to save money. Never. No matter where you decide to put it." – Douglas Ziegler, CPA
"My kids know that you make money, you put money aside for savings, you give some to charity, and then you can spend some of that they've learned at an early age." – Richard Oring
"I think when you become a financial advisor, you become engaged personally with your clients. You know, you want to see them succeed." – Richard Oring
Resources Mentioned: