Financial Literacy and Leaving the Classroom with The Great Teacher Resignation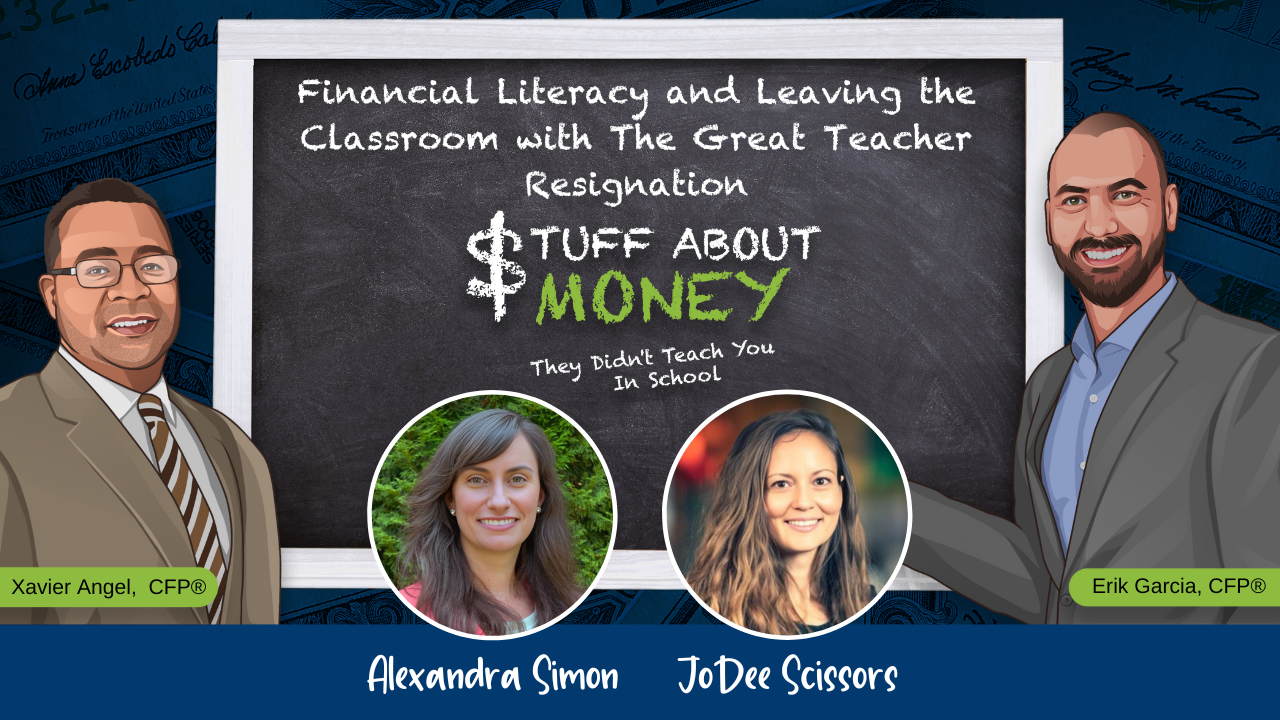 Walking away from your job is hard, no matter what your job is. With it comes financial questions that you'll have to answer. Whoever you are, being financially literate will surely make those questions easier and less scary to answer!
Erik Garcia, CFP®, BFA, and Xavier Angel, CFP®, ChFC, CLTC, are joined in this episode of Stuff About Money podcast by former educators Ali Simon and JoDee Scissors of the podcast The Great Teacher Resignation to talk about thought partners, financial literacy, and leaving the classroom.
Check them out at:
https://thegreatteacherresignation.buzzsprout.com/
Episode Highlights:
Alexandra believes that being debt-free made her feel a lot more secure about leaving teaching since it was one thing she didn't have to worry about.

(6:22)

Alexandra discusses why she would have felt guilty if she had left teaching while still in debt.

(9:35)

JoDee shares that having a partner who could communicate with her about their money in a healthy way was the most important thing that could have happened during her career transition.

(12:11)

JoDee shares that her greatest concern throughout her career shift has been not being capable of providing her daughter with the educational opportunities that she now enjoys.

(14:40)

JoDee believes that financial literacy is one of the most significant gaps in education, and it affects everyone, regardless of socioeconomic status.

(15:36)

JoDee mentions that her spouse helped her realize that there are healthy ways to discuss money without being afraid of it.

(19:03)

Alexandra discusses how she and her husband built their financial literacy, and what they learned along the way.

(22:12)

JoDee explains that if she could have learned about money in school, she would have wanted to learn how to talk about finances in a healthy way and what questions to ask.

(26:59)

Alexandra explains that one thing she wishes she had learned about money in school is that money and life aren't fair or equal.

(28:35)

Alexandra encourages anyone who wants to learn about financial literacy to read the book Millionaire Next Door.

(32:15)

Erik notes the five things they discussed in this episode that should be considered if someone is thinking about changing careers, which are debt, communication with stakeholders, income stability, values, and lifestyles.

(32:42)
Key Quotes:
"I can say, without a doubt, that it would have been very difficult for me to feel comfortable leaving my job as an educator if I had still had a significant amount of student loan debt." – Alexandra Simon

"I grew up with a lot of money-fear. And so, all of the career transition thoughts that I had, the fear was money because I didn't want to compromise our lifestyle. I didn't want to compromise the things we offered our daughter and the future that we wanted for our daughter." – JoDee Scissors

"Financial literacy for me is kind of broad in the sense that I feel like I've always gravitated to wanting to know more about financial literacy." – Alexandra Simon
Resources Mentioned: