Farewell, 2022, and Hello, 2023!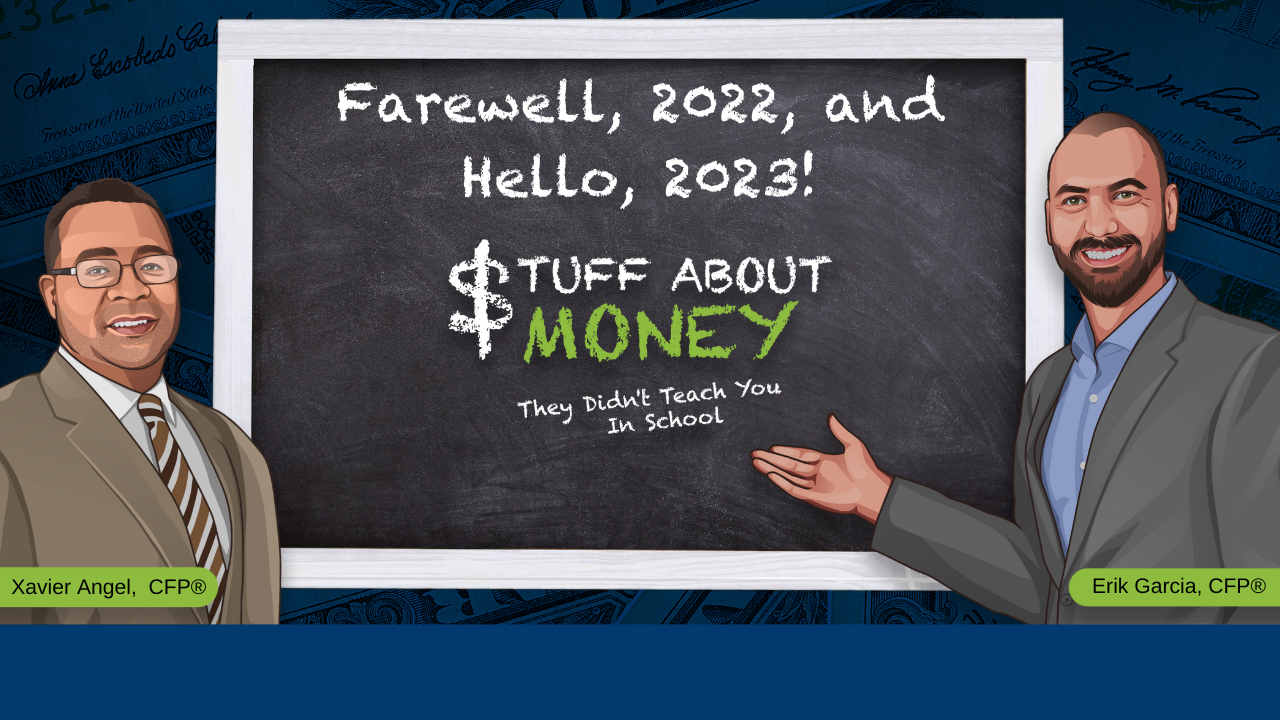 What a year 2022 was! Ups and downs in the market, financial happiness, financial sadness… and now, we usher it out the door and welcome in 2023. Who knows what 2023 will bring for you and your finances?
Erik Garcia, CFP®, BFA, and Xavier Angel, CFP®, ChFC, CLTC, reflect on the past year and finally welcome in the new year (about 2 episodes too late). They exchange their favorite moments from the podcast and talk about guest highlights before the dynamic duo turn their attention to the new year, goals, and what's next for our favorite hosts.
Episode Highlights:
Xavier mentions that in the past year, he has learned a lot about podcasting which was not taught to him in school.

(4:07)

Xavier explains why the two-part episode with Jessica Burke was so powerful and one of his favorites.

(5:13)

Erik explains that the episode with Daniel Seong was very motivating and near to his heart since talking to Daniel reminded him so much of talking to his father, as they had very similar situations and moved into a country where they didn't know the culture.

(7:55)

Erik discusses his favorite 2022 memories and what he learned from them.

(10:53)

Erik mentions that understanding risk tolerance, capability, emotions, and discipline is a solid formula for long-term financial success.

(13:20)

Xavier discusses the significance of shared values in both business and in marriage.

(16:30)

Xavier explains that as part of their financial plan for 2023, he and his wife intend to spend money on experiences.

(17:34)

Erik discusses how he keeps track of where he and his wife are in terms of financial planning.

(20:56)

Xavier encourages listeners to sit down with their business partners and life partners in January and February to plan their budgeting and cash flow for the year.

(24:29)

Erik mentions that one of the things they were finally able to complete was the budgeting video course, "Budgeting Made Easy", which will soon be available..

(24:50)
Key Quotes:
"Understanding those three things, risk tolerance and capacity, emotions, and discipline is a good little recipe for long-term investment success." – Erik Garcia, CFP®, BFA

"Risk tolerance is maybe a little bit more sturdy than just our feelings in general. But eventually, when things are more volatile, we're less tolerant for risk." – Erik Garcia, CFP®, BFA

"One of my recommendations is, sit down, sit down with your business partner, sit down with your lifelong partner and look at what are some of the things that we can be doing now. January, February, is a great time to begin planning and looking at budgeting, looking at cash flow." – Xavier Angel, CFP®, ChFC, CLTC
Resources Mentioned: