Does Life Insurance Destroy Wealth or Build It?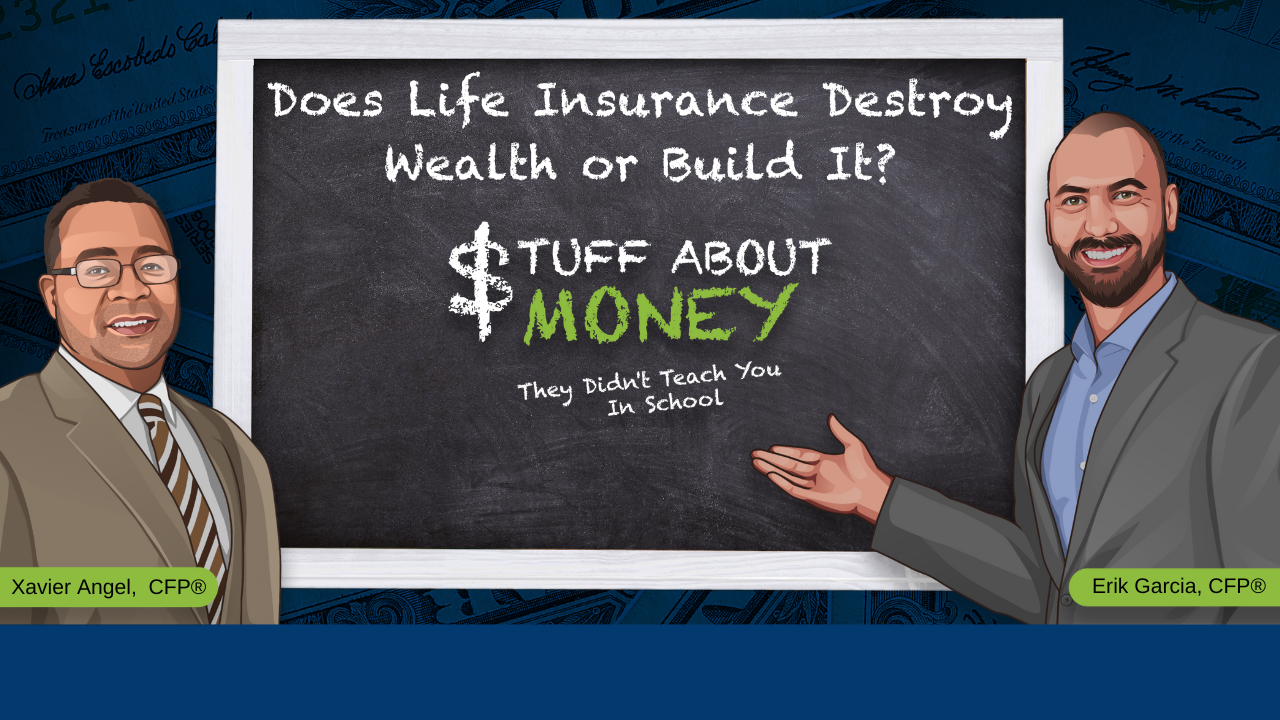 Life insurance. It's boring, we get it. But it's one of the tools you can use to secure your financial well-being, so it's worth having a conversation about what it is, what it does, and when you might need it.
In this episode of the Stuff About Money podcast, Erik Garcia, CFP®, BFA and Xavier Angel, CFP®, ChFC, CLTC, discuss that very topic, covering even the difference between different types of life insurance, and sharing stories from their line of work to better illustrate what life insurance really does.
Episode Highlights:
Erik discusses something he heard on Dave Ramsey's podcast regarding life insurance and why it offended him. (3:07)
Erik mentions that when it comes to life insurance, it's almost like talking about politics and religion since people have strong emotions and opinions about it. (4:14)
Xavier shares his perspective on "selling" life insurance. (5:24)
Erik explains that if someone wants to be financially secure, they should spend less than they earn, save as much as they can, and avoid making foolish financial decisions. (10:20)
Erik and Xavier discuss why and when individuals need life insurance. (11:26)
Erik mentions that when he sits down with a client to talk about financial plans, the first thing he wants to talk about is "what happens if income stops?" (16:12)
Xavier discusses the difference between term and permanent insurance (19:19)
Xavier believes that between 95% to 98% of the permanent policies he wrote are still in effect because they were well designed. (21:48)
Erik explains why life insurance is not a one-size-fits-all product but rather a tool that when used properly, may address a wide range of problems. (29:53)
Xavier shares why it may be beneficial to purchase life insurance for your children when they are young and healthy, to secure the best rate. (32:25)
Erik mentions that everyone's situation is different and thus the need for life insurance, the type of life insurance, and the amount of life insurance an individual should have will vary from person to person. (38:21)
Key Quotes:
"I believe that life insurance is an important part of most people's financial plan." – Erik Garcia, CFP®, BFA
"I don't think we sold life insurance. Life Insurance became a solution in the planning part that we were putting out there for the client. So, I hate using that word sell, because it's not selling, it's presenting a solution." – Xavier Angel, CFP®, ChFC, CLTC
"Life insurance is one of the many financial tools that we have to plan for our financial futures, to plan for the financial catastrophes that could possibly happen." – Erik Garcia, CFP®, BFA
Resources Mentioned: