Disability Insurance: Questions and Facts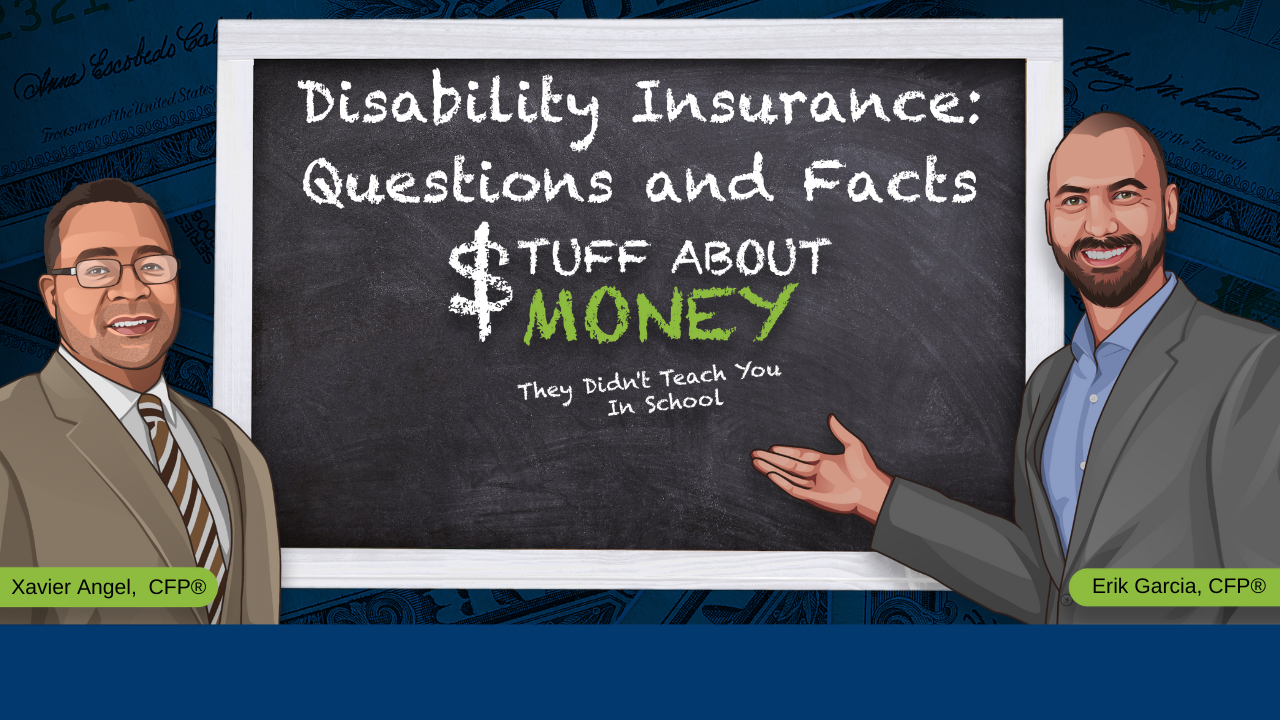 Your body is valuable, especially if you work in a physical industry! So, if something happens to it, it's nice to have the peace of mind that cash won't stop flowing.
As always, Erik Garcia, CFP®, BFA, and Xavier Angel, CFP®, ChFC, CLTC, take insurance and make it interesting: this time, it's disability insurance. The two talk about what disability insurance is, when to get it, and what can cause a disability claim.
Episode Highlights:
Xavier explains group and individual disability insurance, as well as short-term and long-term disability insurance. (6:23)
According to Xavier, 90% of disability claims are the result of heart disease, cancer, or some sort of illness. (13:07)
Xavier believes that disability insurance should be the foundation of every financial plan. (16:05)
Erik explains that, from a planning standpoint, what you do for a living may change the priority of disability. (18:32)
Erik discusses the importance of disability insurance for business owners. (21:17)
Xavier explains that insurance coverage can be tailored by a financial expert, and that group plans are restricted and may not cover bonuses or sufficiently cover high-earners. (23:00)
Xavier explains the importance of knowing the disability coverage provided by an employer's group insurance, including the definition of disability and the terms and conditions for payment, in order to decide whether to purchase an individual policy or continue with the group policy. (26:17)
Xavier encourages individuals to seek advice from insurance professionals or to contact them if they have any concerns about disability coverage. (28:04)
Key Quotes:
"From a planning standpoint, I've looked at utilizing that group policy, it's not bad. You know, I've recommended individuals go out there and enroll in that group policy, and then supplement that group policy with an individual policy. That way, we're making sure that in the event of a disability, you're going to get at least 60% of your income." – Xavier Angel, CFP®, ChFC, CLTC
"I truly believe that every financial plan, the foundation is going to be disability insurance." – Xavier Angel, CFP®, ChFC, CLTC
"My number one rule of financial security is to know where your money is. Your insurance represents money. It's not physical money that you have in the bank, but it's money that's available for really specific times if you need it. And if you have a disability or have access to a policy, know what it's for, know how to use it because that really can go a long way in giving you peace of mind and knowing that you have a good solid financial plan." – Erik Garcia, CFP®, BFA
Resources Mentioned: