7 Financial Issues You Should Discuss Before Getting Married With Jessica Burke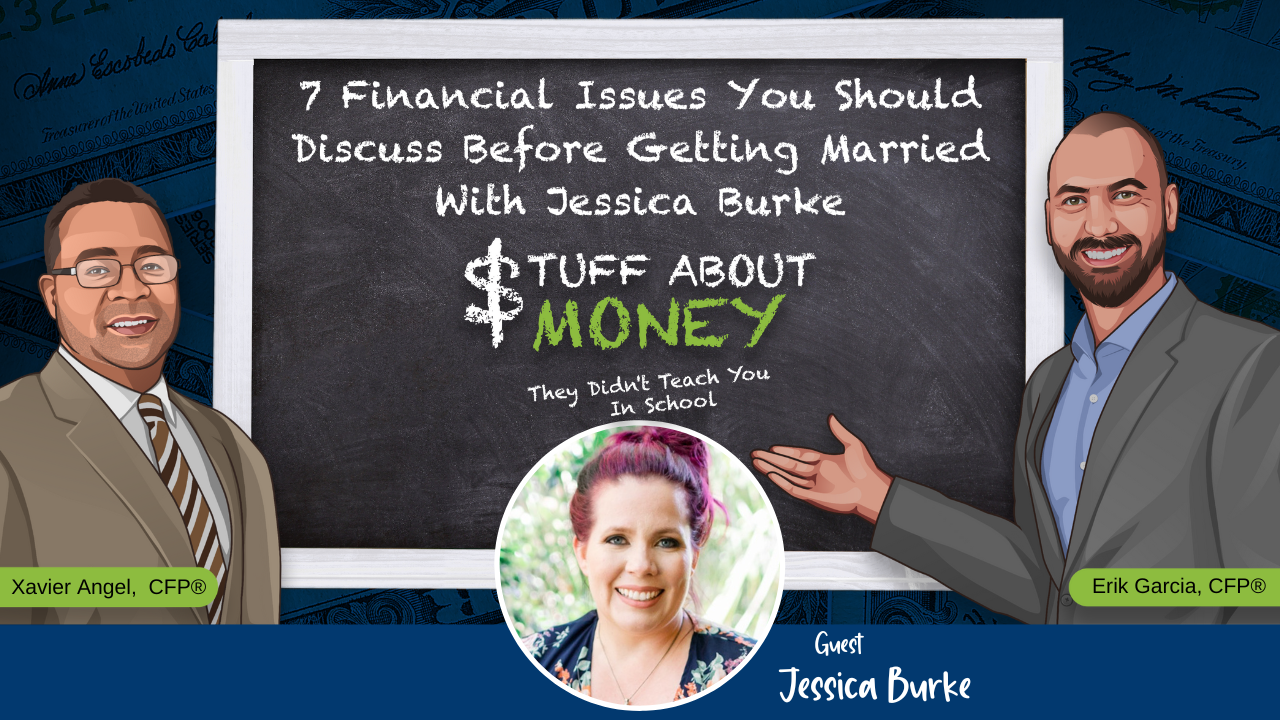 Marriage is such a beautiful thing! Sealing the deal with your beloved can be magical! Y'all don't want ANYTHING to get in the way of your burgeoning marriage – so it's a good idea to talk about your finances BEFORE the wedding, not after.
In this episode of the Stuff About Money podcast, Jessica Burke of NOW Weddings Magazine joins Erik Garcia, CFP®, BFA, and Xavier Angel, CFP®, ChFC, CLTC, to talk about what couples ought to be discussing before they get married.
Episode Highlights:
Jessica talks about why she wishes that she had thought about it a little more before taking out a student loan. (2:05)
Jessica explains she and her husband have different financial approaches; she's conservative and plans for the future, while he's more of a live-in-the-moment kind. (10:05)
Jessica discusses her experience with couples combining their finances and why she thinks it's a problem. (16:15)
Erik believes that before couples get married, they should discuss whether they will keep their finances separate or combine them. (22:12)
Jessica discusses a wedding registry resource that allows guests to contribute to everything from buying a house to paying for a wedding, which is becoming more accepted these days. (23:05)
Jessica explains that where you are with your finances can depend on your age and what phase of life you are in but also on the economic climate. (28:59)
Erik, Jessica, and Xavier discuss the importance of regularly reviewing the beneficiaries of your financial accounts and insurance policies. (29:33)
Xavier encourages writing a will and really sitting down and that the age of your children plays a big factor when naming them as beneficiaries. (33:23)
Key Quotes:
"I'm not completely adverse to risk but I also want to be looking to the future. I want to be looking to that but I don't want to put all of my eggs in one basket." – Jessica Burke
"I've seen people killing themselves to pay for things that I'm like, why are you doing that? Like, you're putting yourself in this debt? For what? Is this ultimately worth it?" – Jessica Burke
"You go through phases as you mature. And where I was 20 years ago is very different from where I am now. And if I had to try to live where I am now, 20 years ago, I would have been very miserable right now." – Jessica Burke
Resources Mentioned: